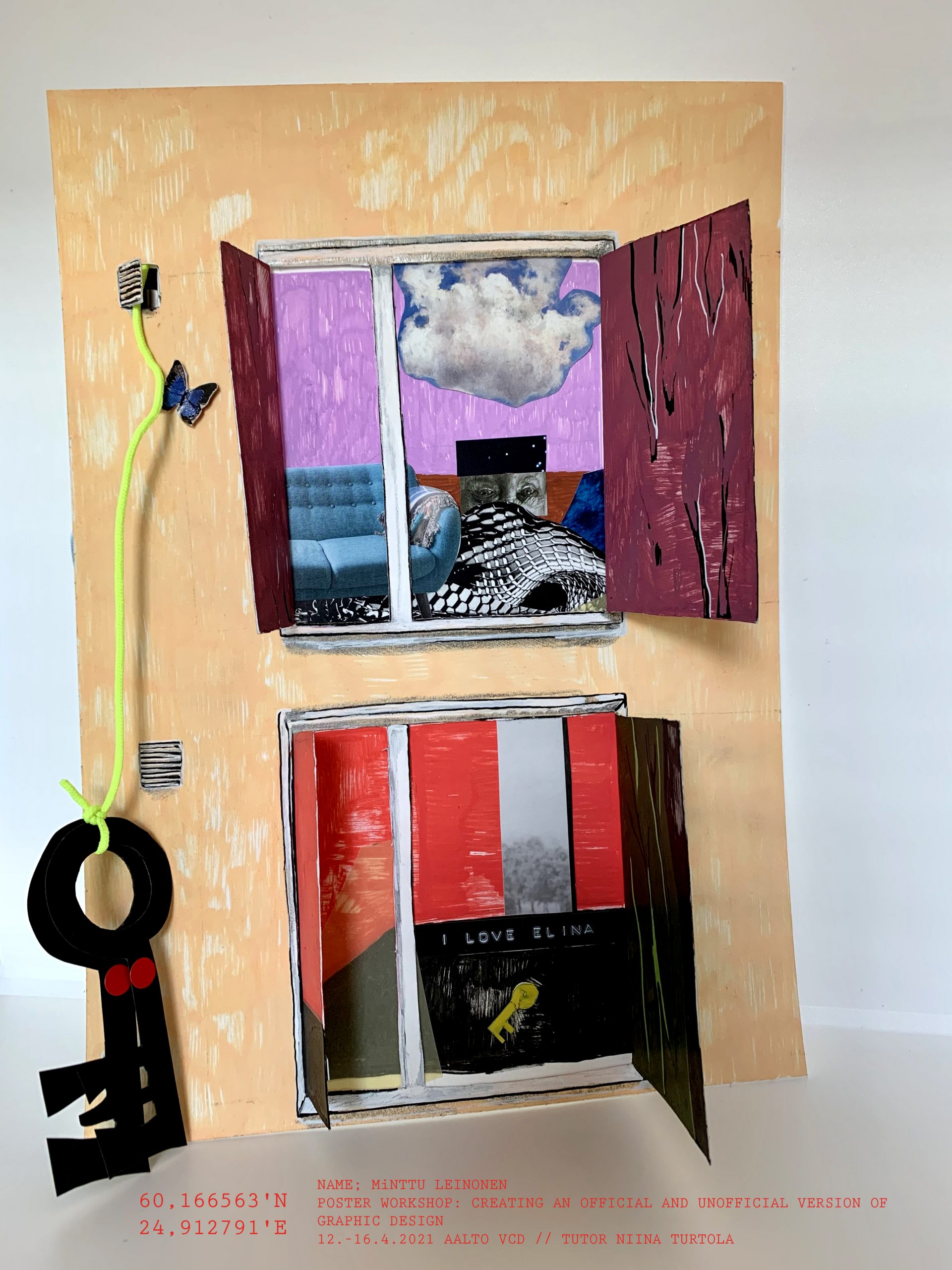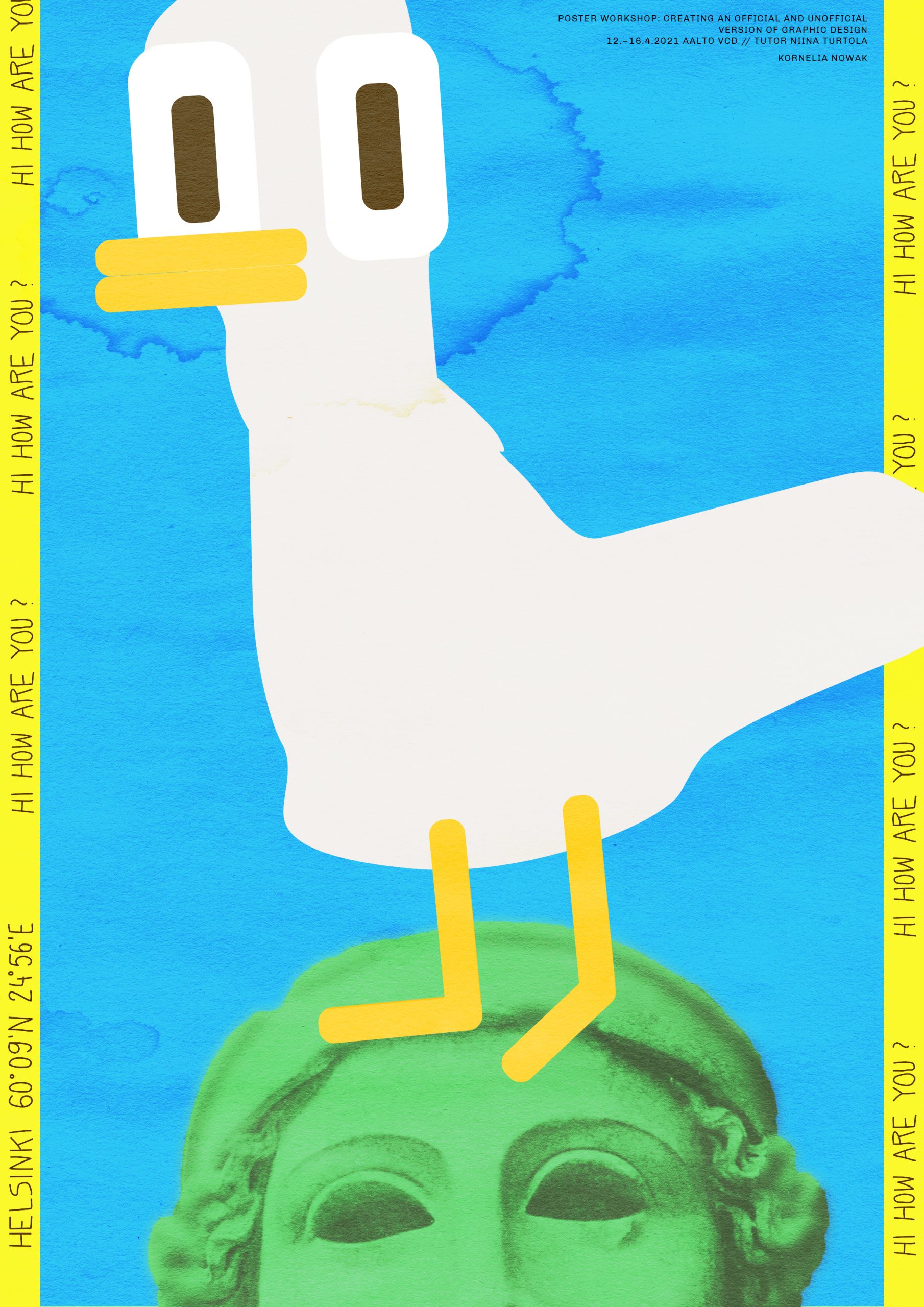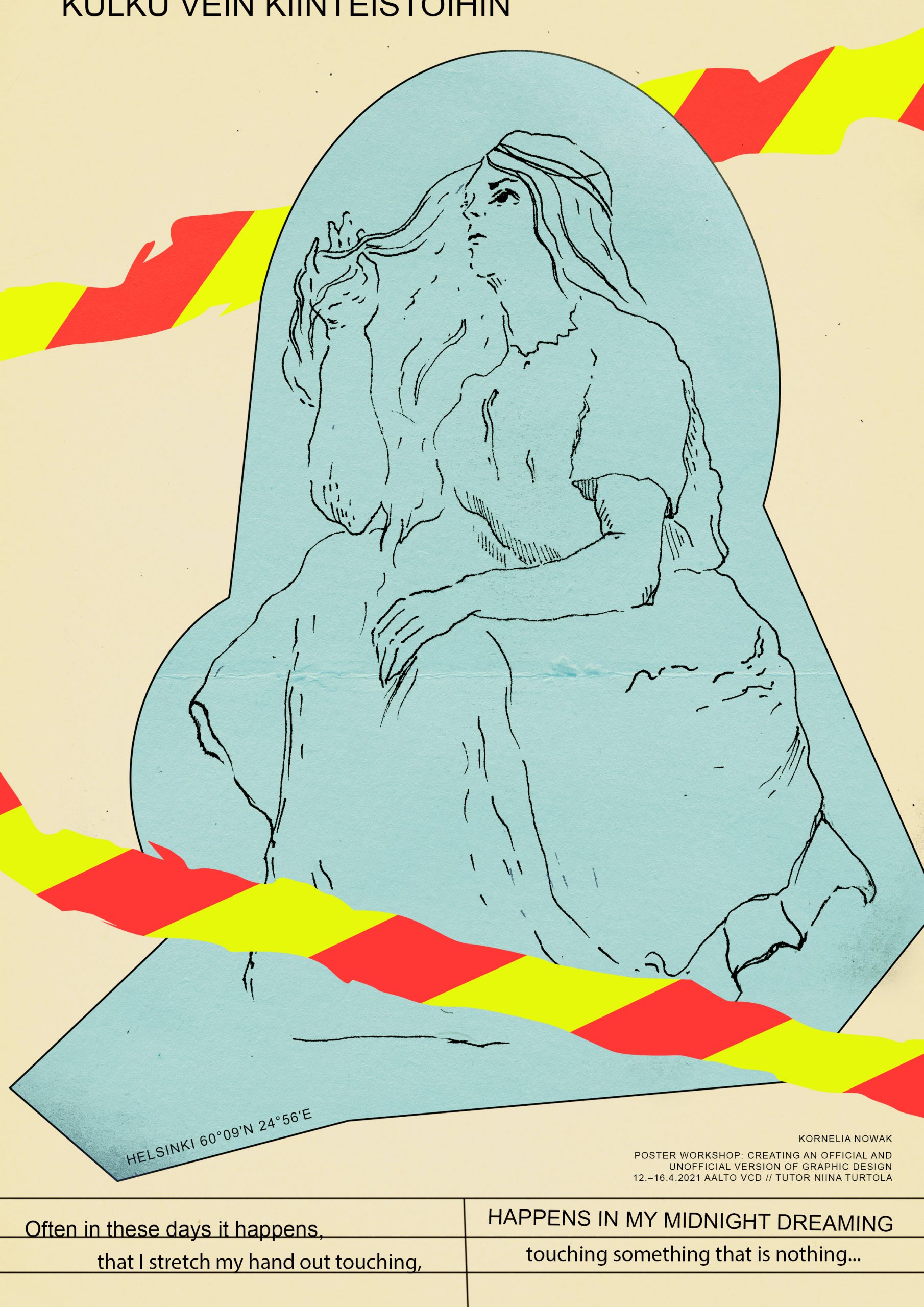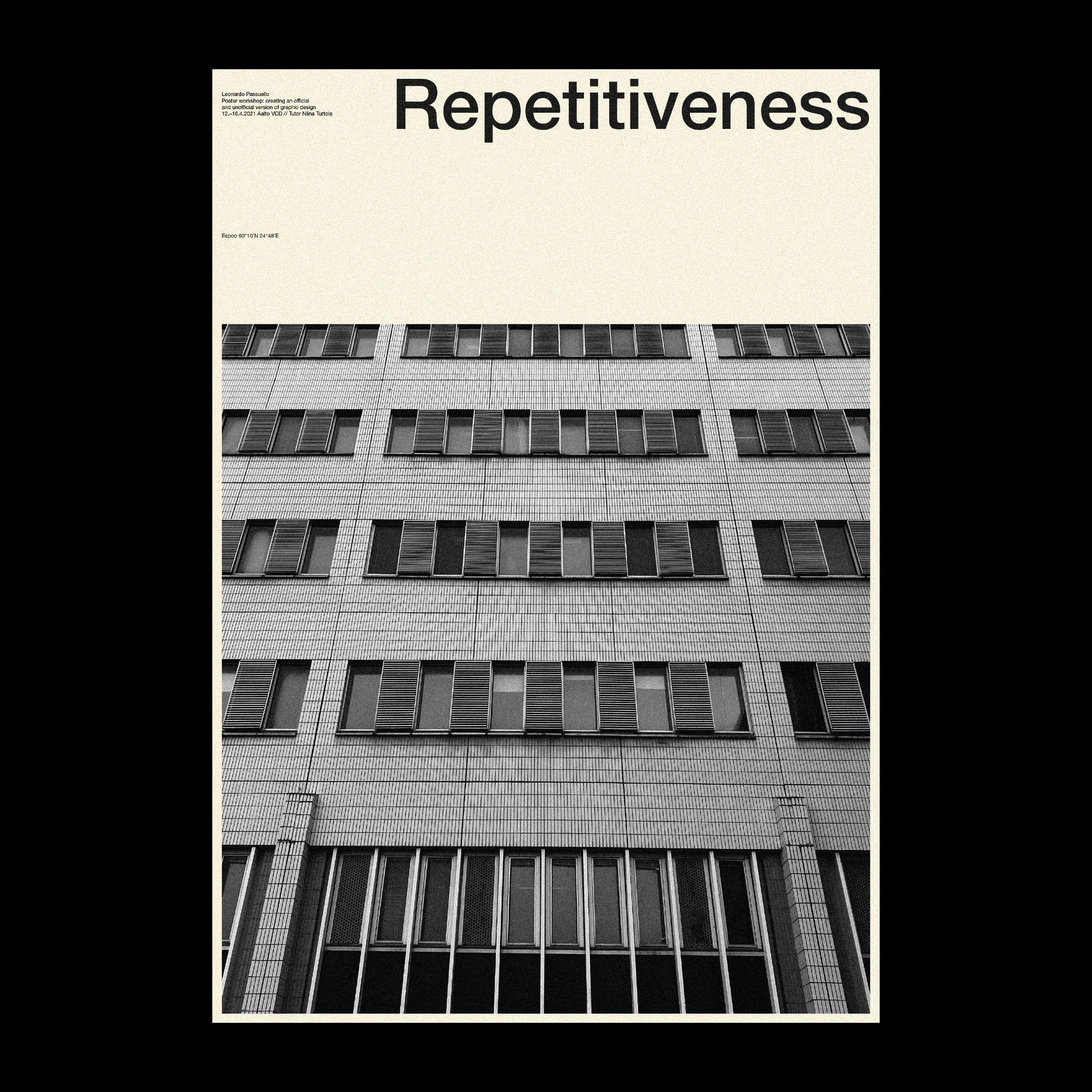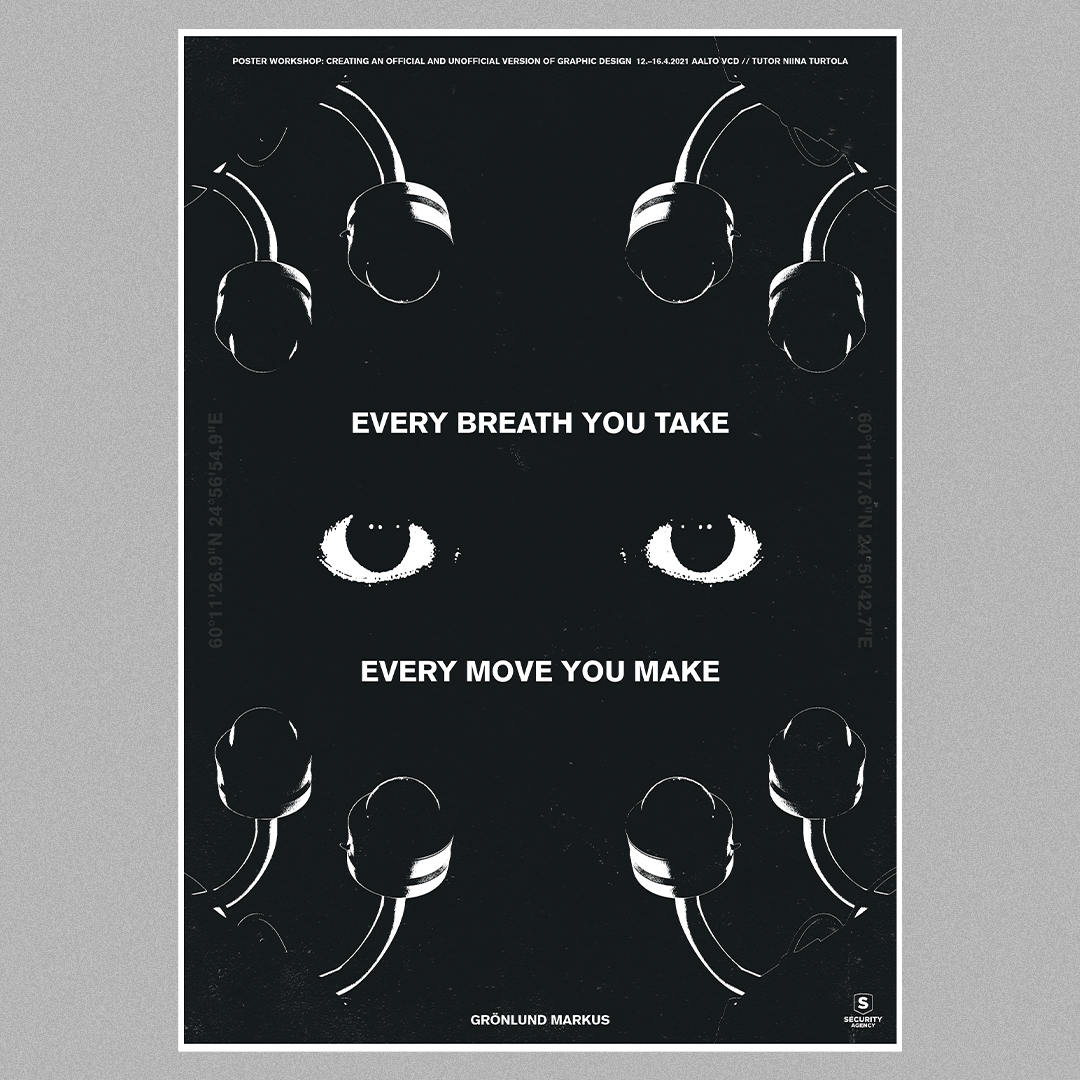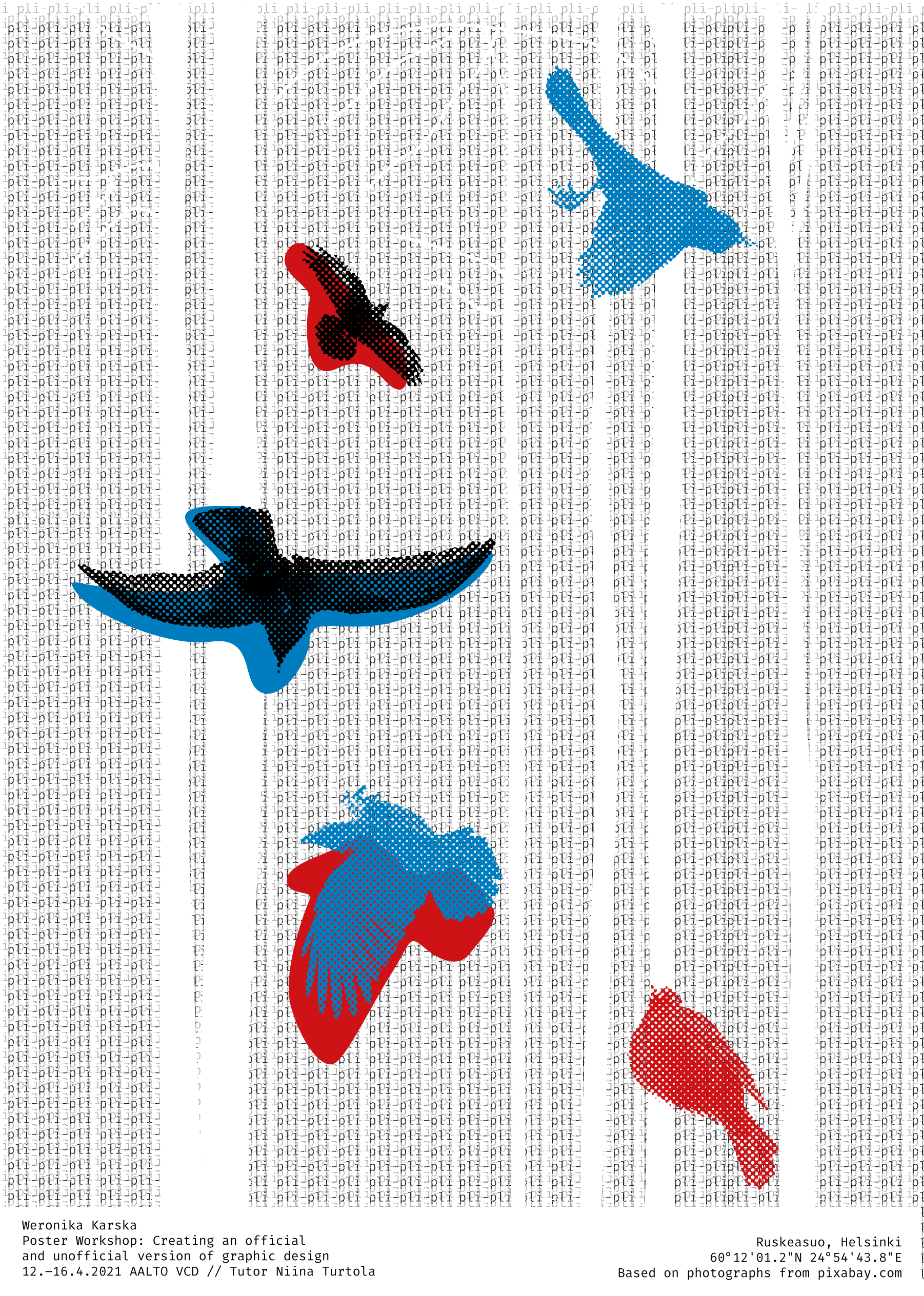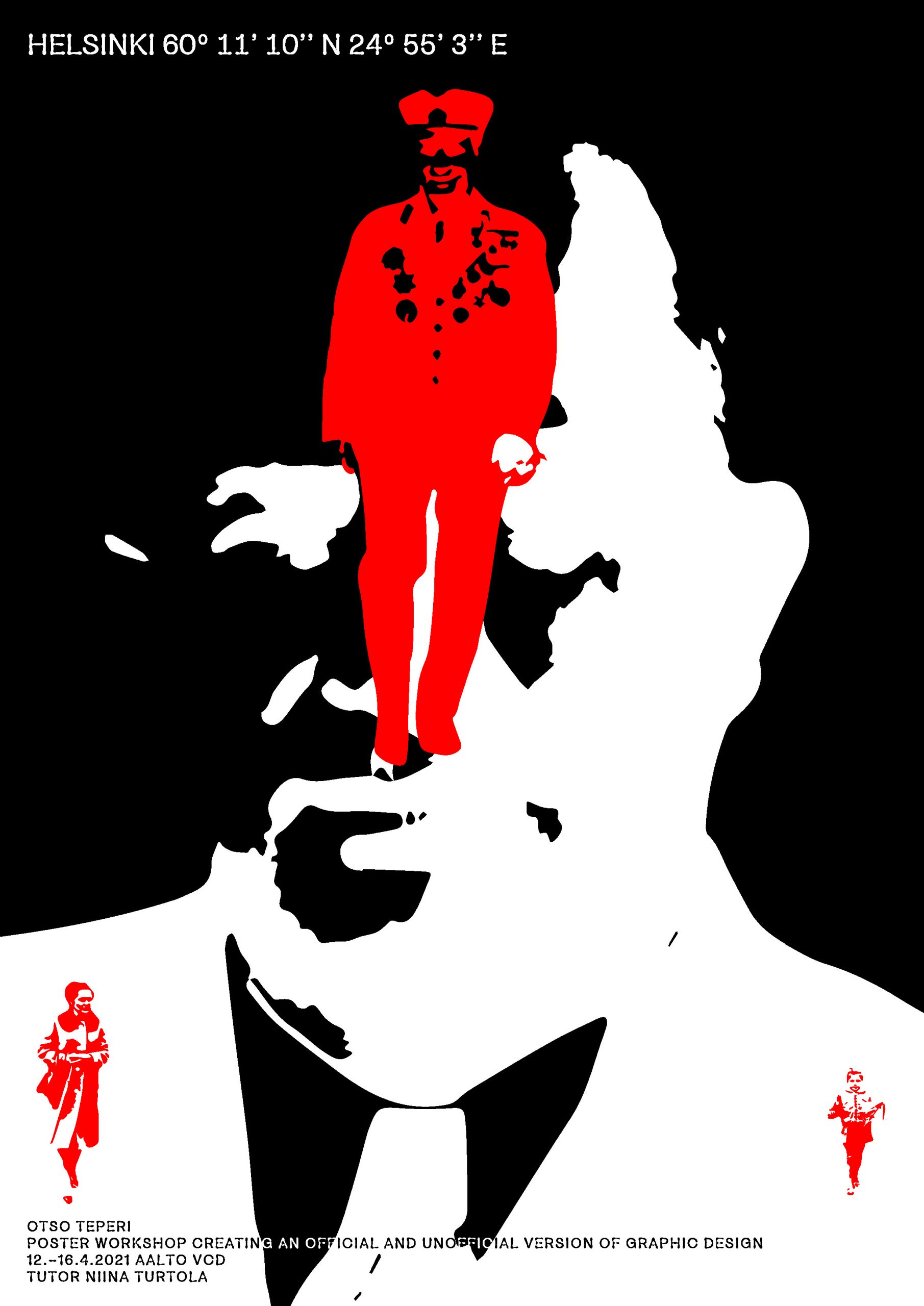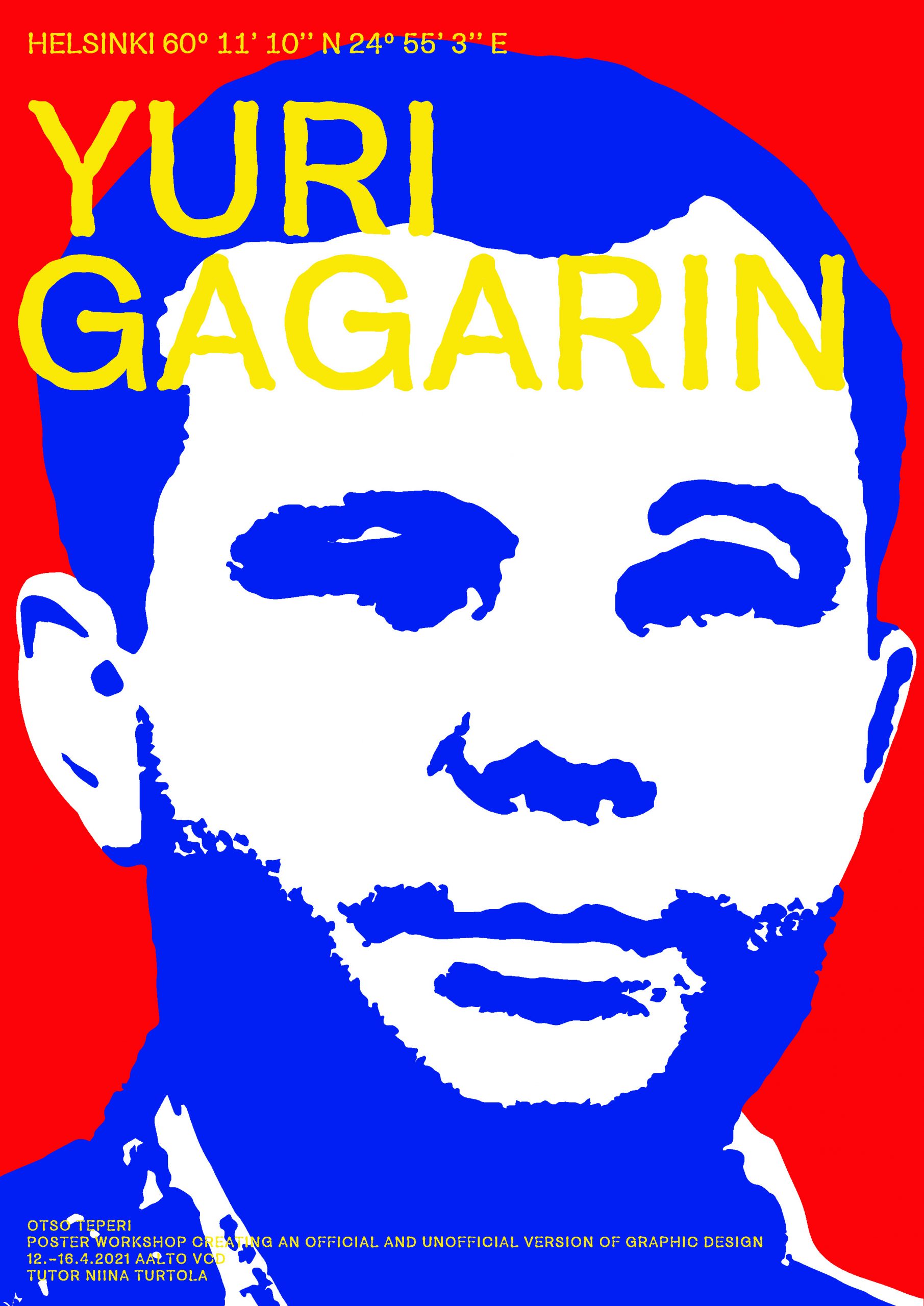 POSTER WORKSHOP:
Creating an official and unofficial version of graphic design
12.–16.4.2021
Workshop by Niina Turtola / Femme Futuriste.
In this workshop students learned to speculate what graphic design 'actually' is and what it can be through creating two posters and writing an essay about the process. This workshop aims at defining what graphic design is as it exists in reality between a) client and customer and other 3rd party interests, b) designer's subjective interests and c) public/audience interests. Jan van Toorn (2010) wishes that graphic designers would bring this apparent dissonance into designs, make it visible, and that designers would not smooth over this juicy dissonance. As an homage to his work this workshop was organized for students to reflect on what this means in actions and essay writing.
This workshop focused on graphic design as 1) official and objective and 2) unofficial and subjective practice. The problem statement according to Jan van Toorn following Poynor (2008, 222) is that "design today is more fascinated with the visual as a realistic imitation or decoration, and not by the image as a subjective narrative and interpretative element".
During this workshop students will learn to look at graphic design as a self-reflective practice by writing and thinking about their work. The aim of the workshop is to define one's own graphic design practice as a critical, artistic and theoretical practice.
This workshop has four tangible outcomes:
1. Official poster + Self-reflective written essay
2. Unofficial poster + Self-reflective written essay
Other relevant links during the workshop:
A passion for the real, Jan van Toorn (2010)
https://direct.mit.edu/desi/article/26/4/45/69008/A-Passion-for-the-Real
Art & Entanglement, Alva Noë (2017)
https://onlinelibrary.wiley.com/doi/abs/10.1111/phpr.12360
About creative autonomy:
https://www.typeroom.eu/in-memoriam-jan-van-toorn-1932-2020
Q&A – The relationship between form and technology:
https://vimeo.com/3775270
Lecture of Jan van Toorn ON STRATEGY, METHOD AND LANGUAGE USE
https://www.youtube.com/watch?v=Y0h-_1HSr4c
About Niina Turtola
Turtola is a graphic designer, contemporary artist and post-doctoral researcher. She devotes her life to developing the research in graphic design, typography and contemporary that mixes facts and fiction, art and graphic design, theory and practice. Turtola sees graphic design as artistic research that highlights the strangeness of the habitual world  – that we do not see – due to its habituality.
Link to "Typographic enstrangement : Transforming everyday texts to typographic art" thesis where Turtola defines her artistic research and methodology of creating a new identity for graphic design: http://urn.fi/URN:ISBN:978-952-337-253-5
Student Participants
Markus Grönlund
Leonardo Passuello
Minttu Leinonen
Iida Pohjolainen
Ann Kivisild
Kornelia Nowak
Weronika Karska
Otso Teperi